Aino Myth
, 1891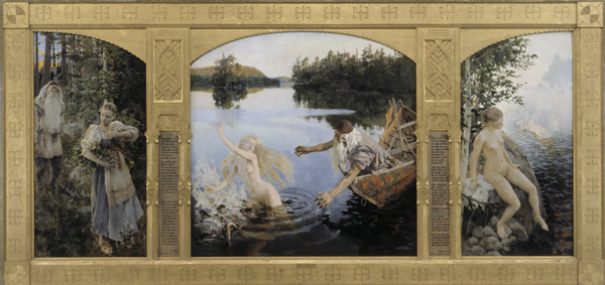 Collection:
Finnish National Gallery, Helsinki
Documentation:
The Aino myth depicts a scene described in the Kalevala, Song Four, lines 1-30:
"Aino, her mother's only daughter,
Young Koukahainen's sister,
Went to gather twigs in a densely overgrown forest.
She tied together first a bundle for her father,
Then one for her mother,
And then finally a third
Bundle for her kind brother.
She turned homeward,
Going with light steps in the wood,
When old Väinämöinen came
Ungmön saw him walking in the forest
The girl with the beautiful skirt –
Said thusly, in these words:
'Ungmö, you cannot belong to anyone other
Than me, my young girl,
Hang a pearl necklace around your neck
Wear a silver cross on your chest
Braid your curls,
Bind a silk ribbon in your hair!
Ungmön said these words:
'Not for you and not for others
Will I wear a cross on my chest,
Bind a silk ribbon in my hair
Be concerned about foreign clothing
Will not eat white bread;
I'd rather wear raggedy clothing,
Chew on dry crusts
At home with my good father
Together with my gentle mother."
Timo Martin and Douglas Sivén identify Gallen-Kallela's sources:
The Aino triptych has distinctive characteristics as a lovsang to the Finnish wilderness and the light summer nights, and the center landscape has been identified with well-known views of Kuhmo. Väinämöinen's boat come from Lapinsalmi cottage where Gallen-Kallela stayed and the model for Väinämöinen Gallen-Kallela found in Lentiira, an old man known as Rimmin Uljaska. He didn't need to look far for the model for Aino – it was his wife Mary."
Timo Martin and Douglas Sivén, Axel Gallen-Kallela, Christina Granroth, trans. (Helsinki: Gallen-Kallela Museum, 1985), 74.