Parnassus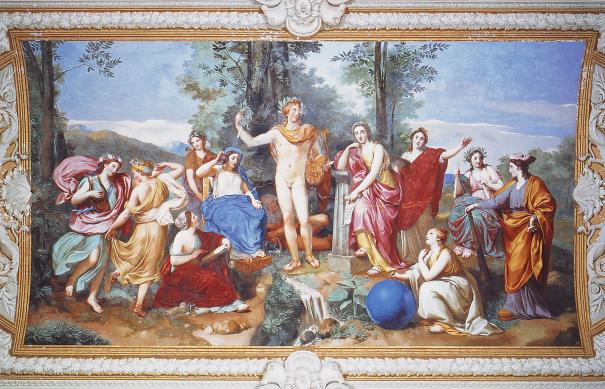 Documentation:
Thomas Pelzel notes:
"The Parnassus has generally been described, and in essence correctly so, as a Raphaelesque composition with heavy overtones of eighteenth-century 'Grecian' taste. In regard to the first of these ingredients, we have seen evidence enough that Mengs's repeated confrontation with Raphael had been an important factor in the development of his own style. And still in the Albani ceiling, one immediately recognizes a certain echo of Raphael's famed Parnassus fresco in the Vatican. The setting of the scene on a low outcropping of rock, with a spring gushing from beneath Apollo's feet, the central placement of the god before a grove of trees, and the shallow deployment of the flanking figures against a flat landscape, all suggest that Raphael had provided Mengs with an initial point of departure. On the other hand, Mengs's composition is sufficiently original that we cannot accuse him of being too deeply in Raphael's debt. It is far more accurate, in terms of Mengs's own attitude toward Raphael, to describe him as competitive with, rather than directly imitative of his style."
Pelzel also notes:
"The most obvious source of inspiration for Mengs was the art, and especially the painting, of Herculaneum and Pompeii. Having been so recently unearthed, these would have held a high degree of interest at the time, and the memory of them would no doubt have been fresh in Mengs's mind. Indeed, [Mengs's biographer, G.-N.] d'Azara states quite specifically that in the Albani ceiling Mengs had put to use all that he had learned from these ancient frescoes on his trip to Naples the previous year. Certain of the individual figures in the Parnassus do in fact seem to have been based, albeit in a rather free manner, upon various Herculanean paintings to which, even without presupposing sketches made after the originals, Mengs would have had easy reference via the engravings in the first two volumes of Le pitture antiche d'Ercolano [The Antique Paintings of Herculaneum] published in Naples at the behest of the King of the Two Sicilies, the future Charles III of Spain, in 1757 and 1760….The Parnassus…is among the earliest examples in Neoclassical painting in which we find such extended evidence of the use of figures derived from the ancient paintings of Herculaneum. Yet it will also be obvious that Mengs has in each case transformed his ancient prototype into a type that is distinctly his own."
Thomas Pelzel, Anton Raphael Mengs and Neoclassicism (New York-London: Garland Publishing, 1979), 110-11 & 114-16.
About the Artist
Born: Usti nad Labem, Bohemia (Czech Republic), 12 March 1728
Died: Rome, 29 June 1779
Nationality: German