Gathering Water Lilies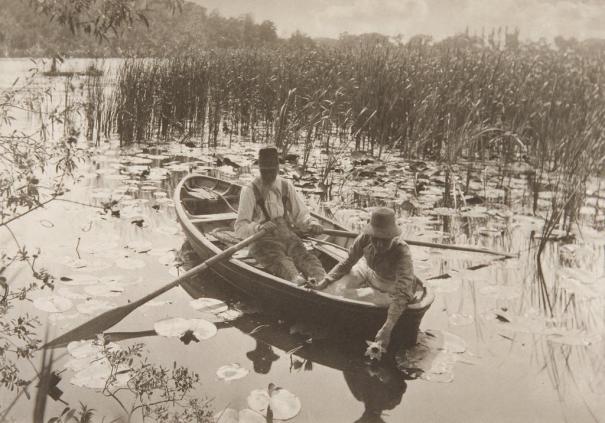 Collection:
From Life and Landscape on the Norfolk Broads, 1886
Documentation:
Jeffrey explains how contemporary painting influenced Emerson's themes and compositions in his photographic collection Life and Landscape on the Norfolk Broads (1885):
"The writing in Life and Landscape is eclectic and impulsive, the work of a widely read man of letters, a scientist, and a dreamer. The photographs, which vary as well, are the work of an artist impressed by both Jean-François Millet and James Abbott McNeill Whistler. Two kinds of photographs appear in Life and Landscape: in one, ponderous laborers linger over their work, and in the other, soothing arrangements of earth and water lie under tranquil skies. Neither individually nor as a set are they unusual. Emerson was quite simply practicing his photography as contemporary painters and etchers practiced their arts. His peasant types descended from Millet, through such French naturalist painters as Pascal Dagnan-Bouveret,Jules Bastien-Lepage, Léon Lhermitte, and Jules Breton. His landscapes are flat and open like the work of the popular Hague painters – Jozef Israels, for example, active from the 1850s onward. They are nevertheless sparing and almost abstract in composition, reminiscent of the etchings and paintings of Whistler, whom he greatly admired – both as an artist and as a firebrand."
Ian Jeffrey, "Peter Henry Emerson, Art and Solitude," The Golden Age of British Photography 1839-1900 (London: Victoria and Albert Museum, 1984), 157.
About the Artist
Born: Cuba, 13 May 1856
Died: Falmouth, Cornwall, 12 May 1936
Nationality: English